Luxury Real Estate on Mallorca
Mallorca, one of the most beautiful islands in the Balearics, is known for its breathtaking landscapes, beautiful beaches, and top-class luxury properties. If you are looking for a luxury property in Mallorca, you have numerous options available.
What characterizes a luxury property in Mallorca?
Luxury properties in Mallorca are characterized by their prime location, high-quality construction, impressive architecture, and exclusive features. Whether modern luxury villas with sea views or traditional fincas amidst picturesque landscapes, Mallorca offers a variety of luxury properties for discerning buyers.
Whether you are drawn to the modern aesthetics or the charm of the bygone era, Mallorca's luxury real estate market promises unparalleled exclusivity and sophistication, making it a sought-after destination for premium living.
Luxury properties with sea views
Mallorca is surrounded by crystal clear water, and many luxury properties offer breathtaking sea views. These properties are particularly sought after by buyers as they convey a unique lifestyle. Some of the best luxury properties with sea views are located in Port Andratx, Santa Ponsa, Camp de Mar, and Palma de Mallorca.
Size of the plot and living space
Luxury properties in Mallorca often stand out due to their generous plots and living spaces. These offer residents plenty of space for privacy and relaxation. A luxury villa can have a living area of several hundred square meters and a spacious plot with lush gardens, swimming pools, and recreational facilities.
Popular areas for luxury properties
Mallorca offers a variety of exclusive areas where you can find luxury properties. Below we introduce you to the most sought-after places for luxury properties in Mallorca. These places offer a combination of breathtaking landscapes, top-class recreational facilities, such as golf courses and marinas, and excellent infrastructure.
Palma de Mallorca
Palma, the capital of Mallorca, offers an impressive selection of luxury properties, from magnificent townhouses in the old town to modern penthouses with panoramic views of the sea and the city. The exclusive residential area of Son Vida, located on the outskirts of Palma, is known for its luxurious villas and renowned golf courses.
Santa Ponsa
Santa Ponsa, located in the southwest of Mallorca, is a popular area near the marina Port Adriano. You can expect luxurious villas, fincas, and modern apartments that leave nothing to be desired. The proximity to the sea and the excellent infrastructure make Santa Ponsa one of the best locations for luxury properties in Mallorca.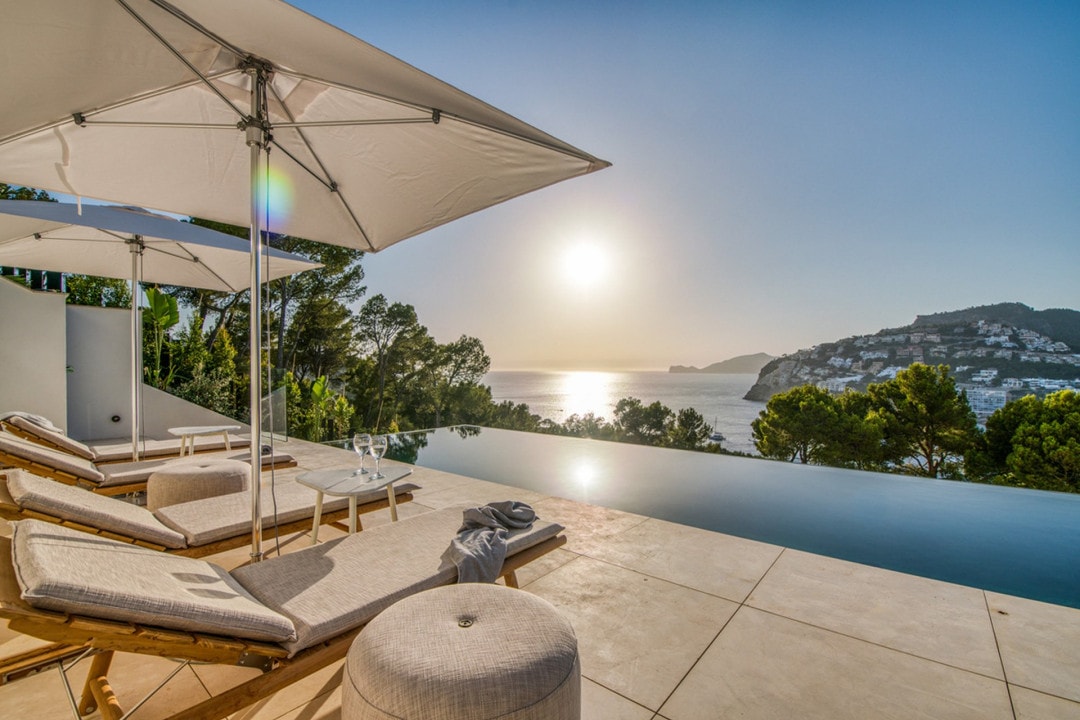 Sol de Mallorca
Sol de Mallorca is known for its large plots and impressive mansions as well as villas with sea views of the Bay of Palma. The famous bay of Portals Vells attracts many yachts all year round. Here you will also find the Cap Falco Beach Club, which provides relaxation and exclusive parties. The family-friendly region attracts international residents and houses the international school BIC. Golf lovers will also get their money's worth – the Poniente golf course is just a five-minute drive away.
Bendinat
Bendinat is close to Palma and Puerto Portals and is one of the most sought-after locations for luxury properties in Mallorca. Here you will find magnificent villas and exclusive apartments in a picturesque setting.
Paguera
Paguera impresses with the luxurious urbanization Sa Puntassa Residences, which offers breathtaking sea and mountain views of Calvia. The beaches are in the immediate vicinity, as are numerous restaurants and shops that make life here particularly pleasant.
Andratx
Andratx, a picturesque town on the southwest coast of Mallorca, is known for its impressive luxury properties, including villas, fincas, and apartments. Port Andratx, one of the most exclusive marinas on the island, offers a selection of luxuryproperties right on the seafront. The breathtaking landscape, proximity to the Tramuntana mountains, and the charming old town make Andratx a popular place for luxury property buyers.
Port Andratx
Port Andratx is the most exclusive location in Palma de Mallorca, offering breathtaking sea views and the luxurious Port Andratx marina. The luxurious villas on the hills of Cala Llamp and Cala Marmacen offer views of Dragonera and the marina. Within walking distance, you will find numerous restaurants and shops that invite you to stroll and enjoy.
Other factors to consider when buying luxury properties in Mallorca:
Indoor and outdoor areas
The indoor and outdoor areas of a luxury property in Mallorca are crucial. A successful combination of stylish interior design, comfortable living spaces, and generous outdoor areas with terraces, gardens, swimming pools, and other amenities contribute to the luxurious lifestyle that buyers are looking for.
Security and privacy
Luxury properties in Mallorca often offer extensive security measures, such as alarm systems, surveillance cameras, and fenced properties, to ensure the privacy and security of residents.
Exclusive locations
Luxury properties in Mallorca are often located in exclusive locations that not only offer breathtaking views of the surroundings but also proximity to top-class recreational facilities and amenities.
Conclusion
Buying a luxury property in Mallorca is an investment in an upscale lifestyle, shaped by the breathtaking nature, exclusive leisure opportunities, and the excellent quality of life on the island. Whether you are looking for a modern luxury villa or a traditional finca with sea views, the selection of luxury properties in Mallorca will inspire you."